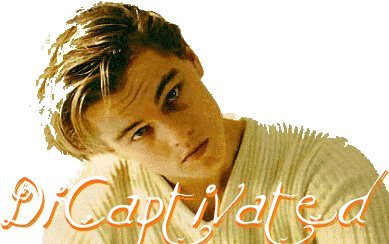 ---
This is a page dedicated to Leonardo DiCaprio, as an actor and a person. This is not a teeny-bopper teen idol page, although looks will play a part in this page's focus.
This page has tons of great pictures, but alot more too, so start clicking and get started.

Once you see what we have in store for you, you'll know why everyone who sees him is Di-Captivated!!
---
DiCaptivated News
**So, how do you like DiCaptivated's BRAND NEW LOOK? E-mail Us and tell us what you think. Oh, and if you haven't seen our old page before, Click Here to check it out. Don't worry, there is a link back to here!!
**Look for a brand new layout, and new sections on our favorite Leo movies, PLUS a section for you, the fans, to write in with poetry, stories, prose, art, whatever coming out this summer!! Pretty soon there'll be even more ways to get DiCaptivated! E-mail Us for more info!
**Head down to the Recent Leo News section to check out exclusive info on Leo's newest project!
---
---
people have been DiCaptivated...

---

Do you have a web page? Do you want to swap banners with DiCaptivated?
Go to our banner page for the info!
---
SECTIONS OF DiCaptivated(c)


find out more about Leonardo DiCaprio
find out about his movies
this our large collection of favorite Leo pictures
see current news regarding our webpage and Leo.
see all the awards/nominations this outstanding actor has earned
our favorite Leo quotes *UPDATED WEEKLY*
these are the webrings we belong to.
our favorite Leo pages
see where we have gathered the info for DiCaptivated (c)
come to this page to qualify early for our award.
come here to join our webring. A great way to get hits to your Leo page!
awards we've recieved since December

Vote for DiCaptivated, click here!
---

Hey, sign our guestbook...or else...GRR!!
---
E-Mail DiCaptivated